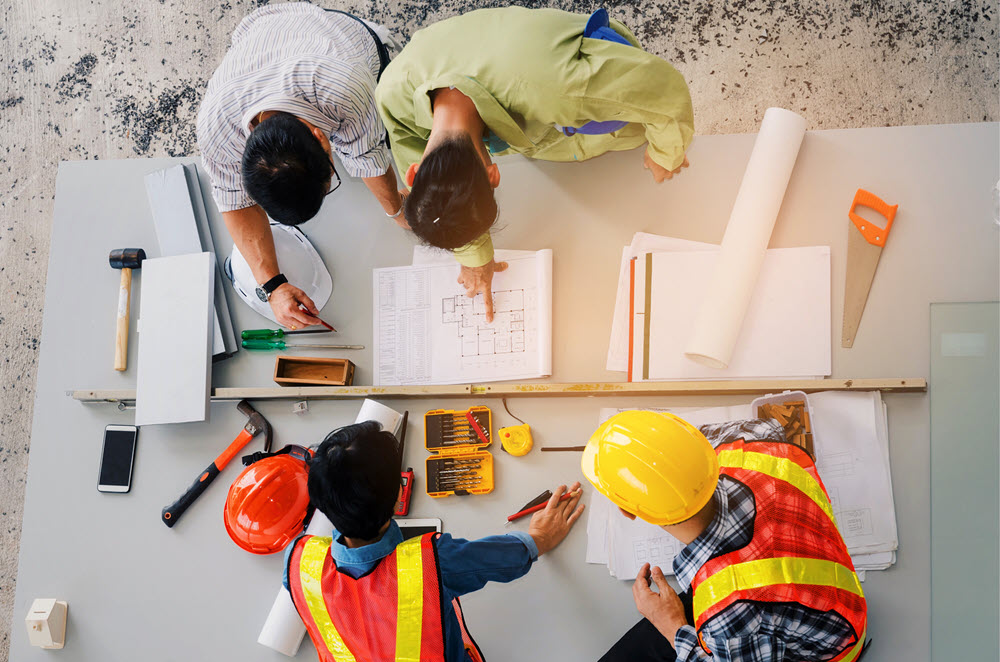 It is literally true that you can succeed best and quickest by helping others to succeed." - Napoleon Hill
Choosing any professional for a job is never easy. Most people don't know exactly what design engineers do, and they certainly don't know how to judge how competent they are.
But your potential clients might one day need the services of an A/E firm (don't leave out professional services firms) and wonder how they'll be able to choose the best one. While experience and skill in the industry are understandably important, not being deliberate enough in this selection process can have serious ramifications.
Maybe a business chooses an A/E firm based on a recommendation, but there's no innovation or creativity. Or a selected design engineer lacks dedication to the project, leaving the client wishing they could ditch the contract for someone else.
How can a potential client see into the heart and mind of a design engineer professional whose work is done largely behind the scenes?
These are difficult scenarios, but not uncommon. How can a potential client see into the heart and mind of a design engineer professional whose work is done largely behind the scenes?
While past projects are one way to accomplish this, so is the right kind of work with nonprofits.
The Benefits from Working with Nonprofits
As a design engineer or professional services firm, how do you convince clients to choose you over the competition?
Ideally, you'll have some talent on staff as well as a portfolio of work to show off.
But will this be enough?
You can set yourself apart from the crowd and truly show your worth through the work that you do with nonprofits. When a design engineer or professional service firm partners with a not-for-profit, their work with that entity becomes a proxy of what their professional work might look like.
Some of the qualities you can showcase include:
Professional expertise.
When you work with nonprofits, this is the perfect opportunity to showcase your professional expertise. Outside the "feel-good" sentiment of giving back, you are also providing potential clients with another way to view the results of your work.
If you donate design engineer or other professional services to a nonprofit, document this work for your portfolio just as you would any other project. There is nothing wrong with highlighting good deeds, particularly when it gives clients a more accurate overview of your organization.
Devotion to their profession.
Clients want to work with a firm that is devoted to its work and loyal to their clients. If your only goal is to get a signed contract for services, you probably won't be doing any pro bono work with nonprofits.
When you demonstrate a sound philanthropic strategy, this differentiates your firm from others in the field. A design engineer that is devoted to making the world a better place is more likely to have high personal standards and a strong dedication to their work and clients.
Positive company culture.
Working with nonprofits delivers a long list of internal benefits that will also help your company grow and attract more clients. When you involve your staff with the right nonprofit work, you'll end up with a team of passionate people that that are more fulfilled and productive.
According to a Cone Communications study, 88% of Millennials are more fulfilled at work when they are given opportunities to make a positive impact on the environment and society. This is why companies like Microsoft have embedded their culture with "Goodness," backed by various opportunities to participate in helping nonprofits.
Shared values.
For companies large and small, philanthropy matters more today than it has in the past. As younger generations gain more purchasing power, what your organization is doing to help others makes a difference.
According to a recent Aflac Corporation survey on corporate responsibility:
92% of Millennials are more likely to purchase from a company that they see as "ethical."
81% of consumers are more likely to buy from companies that are active in philanthropic efforts year-round instead of only in times of need.
75% of consumers admit that they would be happier working for a company with a strong corporate responsibility program.
When a client chooses a design engineer or professional services firm because of its work with nonprofits, this will have a positive impact on business growth and bottom-line results. These programs are a worthy investment, provided you are doing it for the right reasons.
Nonprofit Work for the Right and Wrong Reasons
While the benefits of working with nonprofits are clear, it would be a mistake to approach this from a purely self-serving standpoint. If the only reason your helping others is to "look good," it's going to backfire. People are savvy enough to recognize this sort of participation, and companies have been called out in the past for just this sort of action.
If you're spending more time and effort telling people about your good deeds than actually helping others, the optics will be terrible. On top of this, the return on your investment just won't make sense.
A few years ago, Anheuser-Busch treated Super Bowl viewers to a 60-second commercial showing how its employees sent cans of emergency drinking water to natural disaster areas. This is an inspiring story until you take a look at the financials.
In total, the Anheuser-Busch Foundation sends out about $10 million each year, which is only about 0.02 percent of its revenue. So, essentially the company donates a penny to its foundation for every five cases of beer you purchase. On top of this, a 30-second Super Bowl ad on NBC costs roughly $5 million. This one was a minute long, so was the entire exercise a wash?
It was certainly a risk, considering that most of today's consumers can do basic math. If you're going to work with nonprofits, don't spend a disproportionate amount of your budget tooting your own horn. Creating these partnerships is still an excellent move for your business, provided you are doing it for the right reasons.
Making Nonprofit Work a New Priority for Your Business
If you are a design engineer or professional services firm that is now sold on the idea of working with nonprofits, where do you begin? Here are a few strategies for using your business to serve the greater good.
Focus on a pet passion. Is there something that you and your staff are passionate about such as wildlife, children's issues, or the environment? If you're not sure, start doing some research and poll your employees to get a consensus. This will make your work more meaningful.
Find a nonprofit with a need. The next step is to find a nonprofit that needs your services. Create a "pitch" that you can send out, letting relevant not-for-profits know that you are interested in helping out if they have a need for your services in the future.
Donate your services. You can help these organizations in a variety of ways. Pro bono work would be ideal, but you can also showcase your company's dedication to a cause through donating materials and other labor as needed.
Create a co-branded marketing campaign. By "campaign," we don't mean shooting and paying for a Super Bowl ad. Instead, opt for a free press release or a mention in the next company email newsletter. This is also something you can share on social media.
Most folks don't realize that good professionals wake up each day thinking about their clients and projects. Most folks don't know that true professionals define their best clients as those that keep them up at night.
When your professional services firm shows that it puts this level of dedication into its work with nonprofits, it sends a message to potential clients. Specifically, this means that they are going to receive the same high level of service and commitment from your firm as those who are receiving services pro bono.
I am a fan of Temple Grandin who once said,
If you want people to know what you can do and who you are...
show your work."
A nonprofit offers your firm the opportunity to both make an impact and show your work, which is a particular benefit for a design engineer whose work goes unseen and underappreciated every year.
Can we Help?
Hunter & Associates, P.A. provides accounting, financial management, agile management consulting, and overhead rate audit services to A&E firms, particularly those engaged in government contracting. Contact us now to learn more about how we can help you achieve your goals.