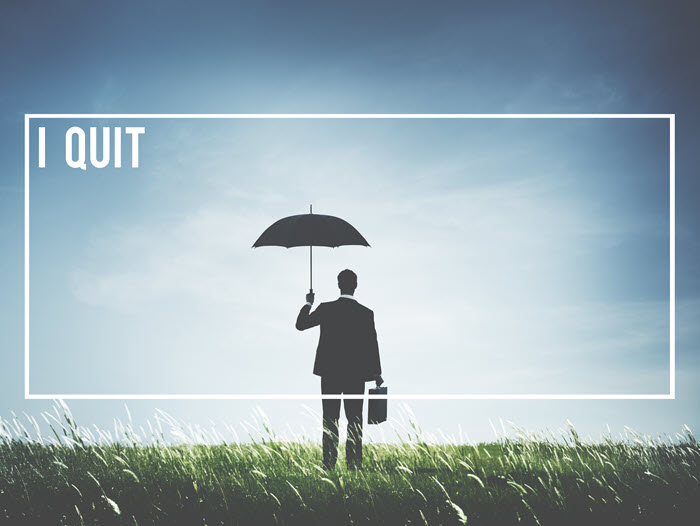 If at first you don't succeed, give up and try something else."
- Homer Simpson
It may seem counterintuitive to joke about throwing in the towel, but the truth is that not every business was meant to succeed. So many of us are given the advice that if we just try hard enough, work smarter, or are resilient, that success is there for the taking.
While it's true that you want to give any endeavor your best shot, you also don't want to lose everything or quit too soon. Many business owners seem to wear their own set of blinders that don't allow them to see when it's time to draw a line and give up.
But businesses do fail and with shocking regularity. If you wait too long, you could lose much more than if you had taken action just a bit sooner. Here are some eye-opening figures about business failures and a list of key indicators that it might be time to shut down your business.
Business Failure and Success by the Numbers
No business owner wants to be just another statistic, but businesses are synonymous with risk. It should go without saying that you'd want to know your odds of success (and failure) if you're going to going to throw your proverbial hat into the ring.
According to the Small Business Association's (SBA) 2018 figures, about 80% of small businesses survive the first year. This sounds like a surprisingly high figure, but the numbers go downhill from there. By the five-year mark, only about half (up to 51%) of small businesses remain, and just about one-third make it to ten years.
10 Key Indicators That It's Time to Shut Down Your Business
There are a ton of resources that list the top reasons that small businesses and startups fail. CB Insights studies this extensively, and it's worth reading about if you own a small business. While some of these key indicators coincide with this list, there are some variations.
In truth, you might find that your small business meets one or more criteria, and a few are items that you can triage to save your business. Shutting down a business is a major decision and a personal one for the business owner. But, as you read through these indicators, several affirmative answers should give you pause and provide fuel for a more detailed assessment about the future of your business.
You love your product more than the customers do.
According to CB Insights, the number one reason that small businesses fail (42%) is that they fail to fill a market need. In other words, if you (and your family and friends) are the only ones in love with your product, there is a significant issue.
Is your company filling a need in the market or is it centered on something that you care passionately about? When the two collide, this can be magic, but it would be a mistake to believe that the world thinks just like you. Successful business owners look for a void and then do their best to fill it.
Your competition does a better job.
In many industries, there's just too much competition. The market becomes saturated, and it's too difficult to make a profit. The truth could be that your competitor just does a better job of marketing and fulfilling the needs of customers.
If a business owner is too focused on one area of the business, they might miss opportunities to improve or see what is working for a competitor. If this is your situation, you can either make some adjustments or fade away.
Your business has run out of cash.
The second most common reason that small businesses fail is that they don't have enough capital. Having a strong business plan before opening your doors can prevent some of these issues, as can strict financial management.
Being cash flow positive means that you have more money going into your business than going out at any given time. If you've never calculated your cash flow before, SCORE provides a free cash flow statement template that can get you started. If you are consistently in the red, this is an issue to discuss with your financial advisor or CPA.
You can't make a profit.
Profitability is not the same thing as cash flow, but they are related. In the bigger picture, is your business showing a profit after all expenses are paid? In other words, are you making more money than you spent?
If you are not making a profit, you might have issues with pricing, suppliers, rent, marketing, or sales. These are all things to consider before you make the decision to shut your doors.
You are swimming in debt.
Many small businesses have to take on debt from time to time. You might have some equipment debt or need short-term financing to fill a large order. But, if you are borrowing high-interest debt or, worse, asking family and friends for money to keep your business afloat, you'd better be 100% sure that this is a winning business idea.
In most cases, too much business debt is a sure sign that it's time to think about closing. How much is too much? Calculate your company's total debt ratio, which is total debt/total assets (from your balance sheet). If the figure is greater than 1.0, your debts are higher than your assets and it's time to be concerned.
Your key employees are jumping ship.
Nearly a quarter (23%) of small businesses fail because they don't have the right team in place. If your key employees are heading for the hills, you can hire more people, but there is clearly an underlying issue. Unless you can address your employee turnover problem quickly, your business is in trouble.
Your customer churn rates are too high.
It costs significantly more to attract new customers than to retain the ones you already have, and existing customers are known to spend more than new ones. This is why your "customer churn rate" is such an important metric to measure business growth and health.
You can calculate this by dividing the number of customers lost during a time period, say a quarter, by the number you had at the beginning of that period. So, if you had 500 customers on Jan. 1 and ended the quarter with 420, your churn rate is 16% because you lost 80 customers. This is far too many.
Your business isn't growing.
If you created a business plan, you must have set some goals. Did you want to open a new location after two years or get 50 new paying customers in the first six months? How close did you come to achieving your goals? If you're making traction, don't discount this, but failing to achieve any of your business goals is a red flag that things aren't progressing according to plan.
Your health is suffering.
Small business owners generally work long hours and are under a tremendous amount of stress. If this venture is taking a mental and physical toll on you, you'll need to weigh your options. Try to look at this as objectively as possible. If someone you cared about came to you in the same situation, what advice would you give?
You'd be happier without your business.
Life is short. If your business is making you miserable or destroying your personal life, it's time to walk away.
It's Time to Quit - What's the Next Step?
I have not failed. I've just found 10,000 ways that won't work."
- Thomas A. Edison
Just because you decide that this business isn't the right fit, that doesn't mean that success isn't right around the corner. Some of the world's most successful entrepreneurs have failed businesses in their past. These include Walt Disney, Henry Ford, Oprah Winfrey, Richard Branson, and Jeff Bezos.
In fact, experience in prior failed ventures has been shown to be a business success factor. One study found that founders who have failed at a prior business have a greater chance of succeeding with their next venture than someone who is a first-time entrepreneur. Obviously, failure teaches a lot about what not to do in business, and there is plenty of incentive to not repeat the mistakes of the past as well as build on prior successes.
If you've decided to quit the business, you have options. Just closing the door and walking away is one of them, but possibly not the best or most profitable. Your best course of action is to create a comprehensive business transition plan that can help you meet your personal financial objectives.
One place to start is by completing an Exit/Transition Readiness Assessment.
Even if you didn't have a transition strategy when you started your business, you can create one now. Whether you have decided it's time to quit or not, begin planning your exit immediately so that you understand your options and control your financial future.