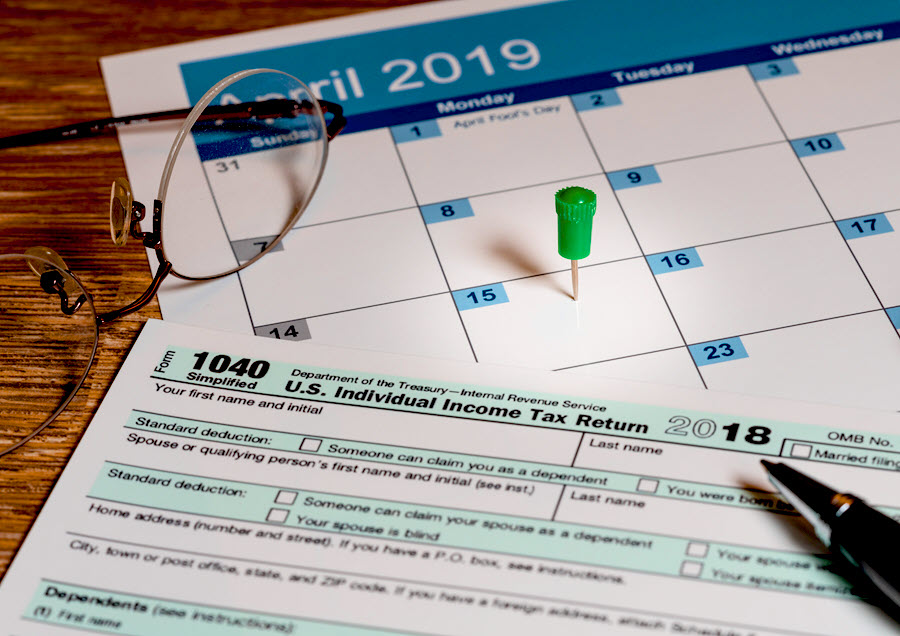 Following the most expansive tax law changes in 30 years, Treasury asked the IRS to look at ways to improve the 1040 filing experience. The IRS reviewed the set of 1040 forms (i.e. the Forms 1040, 1040EZ and 1040A) with the goal of simplifying this experience for taxpayers and its partners in the tax industry.
Treasury approved a new approach that provides flexibility in how IRS will be able to manage future changes to the Form 1040 and reduce the number of 1040 forms from which taxpayers must choose, to one basic Form 1040 that all taxpayers will use.
The 2018 Form 1040 replaces prior year Forms 1040, 1040A and 1040EZ.
This form uses a "building block" ap­proach so taxpayers with straightforward tax situations only need to file Form 1040, while those who need to provide supplemental information can use the new numbered sched­ules they need.
Electronic filers may not notice these changes as the tax software will automatically use their responses to complete the Form 1040 and any needed schedules. For taxpayers who filed paper returns in the past and are concerned about the 2018 changes, this may be the year to consider the benefits of filing electronically.
Or you might decide to lower your stress and save time by having a CPA prepare your taxes. (We would be happy to assist!)
While commonly used lines on the prior year form are still on the 2018 Form 1040, other lines are now Schedules 1 through 6 and organized by category.
The six new numbered schedules are in addition to the existing schedules, such as Schedule A, Itemized Deductions, or Schedule C, Profit or Loss from Business.
Here are brief descriptions so you know what schedules you may need to file with the 2018 Form 1040:
Schedule 1 - Additional Taxes and Adjustments to Income
Taxpayers use this schedule to report income or adjustments to income that can't be entered directly on Form 1040. This includes capital gains, unemployment pay, prize money, and gambling winnings. This also includes the student loan interest deduction, self-employment tax, or educator expenses.
Schedule 2 - Additional Tax
This scheduled is used by taxpayers in specific situations. Those who owe alternative minimum tax or need to make an excess advance premium tax credit repayment will file this schedule.
Schedule 3 - Nonrefundable Credits
Taxpayers use this schedule to report nonrefundable credits other than the child tax credit or the credit for other dependents. These include the foreign tax credit, education credits, and general business credit.
Schedule 4 - Other Taxes
Taxpayers use this schedule to report certain taxes. These include self-employment tax, household employment taxes, tax-favored accounts, and additional tax on IRAs and other retirement plans.
Schedule 5 - Other Payments and Refundable Credits
Taxpayers who claim specific refundable credits or have other payments withheld will file this schedule. These other payments include:

Payment made when the taxpayer requests an extension.
Payment of excess social security.
Schedule 6 - Foreign Address and Third-Party Designee
Taxpayers use this schedule to enter a foreign address. Anyone who wants to allow someone other than their paid preparer to discuss their tax return with the IRS will also file Schedule 6.
These schedules are in addition to other schedules:
If you need to file a tax return for a year prior to 2018 , You should use and file the Form 1040, 1040A or 1040EZ for that tax year. Prior year tax forms and instructions can be downloaded from IRS.gov. Information on filing these types of returns is available on the Filing Past Due Tax Returns webpage on IRS.gov.
Without a doubt, you are hesitating with new thoughts. Did you take the new tax reform into consideration? Do you understand the new definitions and expectations?
If so, don't hesitate to contact us today. We look forward to serving you.